Maggz Elizabeth is a Toronto-based, world-travelling music photographer with an obsession for UK hip hop. She's shot festivals across the continents and captured some of the biggest names in hip hop. We chatted with her to explore the artists that dragged her across the pond into UK hip hop.
---
How did you get started in music photography?
I started shooting 5 years ago. I was going to shows regularly, always spending a lot of money. I thought it'd be fun to try to shoot concerts, then realized I could get in for free if I was doing a job. A friend of mine was promoting Post Malone's first show in Toronto in 2015, and he managed to get me in with my camera and got me stage access. So my first experience shooting a show was pretty amazing. I fell in love with it and I ran with it from there. I did a lot of sneaking cameras into shows when I wasn't officially on media lists, just so I could do it for myself and to learn. I eventually paired up with Blare Magazine, who got me into a lot of shows through media lists. Then I paired up with Rapseason about 3 years ago, shooting their smaller shows. I kept working at it and eventually got moved into their main shooter spot, so I've been shooting with them ever since.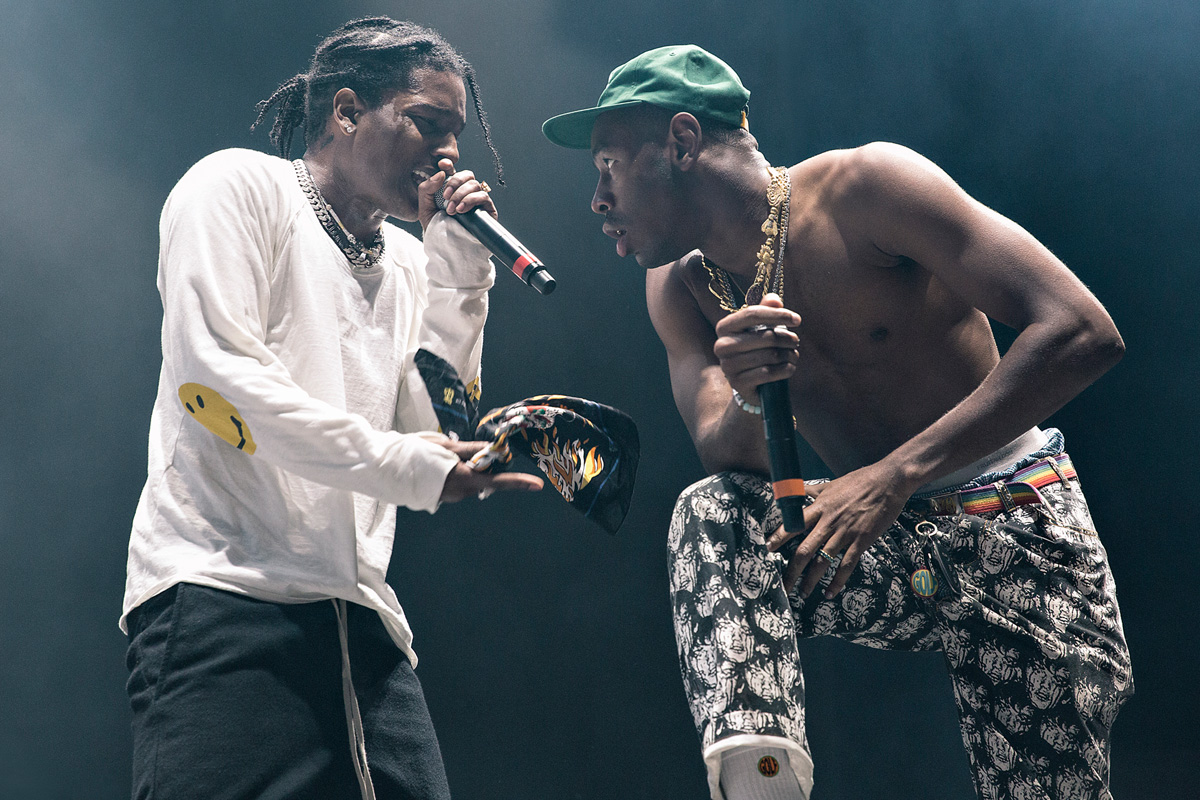 A$AP Rocky and Tyler, The Creator
When did you first get introduced to UK Hip Hop?
I had a writer friend that was working with artists in the UK who had lived over seas. That was probably 3 years ago that she introduced me to it and I fell in love with it. It's pretty much all I've listened to ever since. I've connected with some great people over UK rap over time and we're always sharing songs.
What is it about the genre that caught your attention?
It's definitely a style, but my taste in UK music is more of the melodic rap, more hooks. It's all about the melodies for me.
"It's all about the melodies for me."
I saw you shot Parklife Festival in Manchester last year, what was that like?
Yes! I actually only went to London for the first time last year. It's weird, I've always felt a connection with the UK, and Europe in general. I don't want to say I'm in the wrong place, because I love shooting in Toronto, but something about that scene has always appealed to me for reasons I can't really explain.
Any highlights from Parklife?
Slowthai was definitely my favourite. His energy was insane and he performed in this tent mid-day, but he had a huge walkway, which we never really see except for big headlining acts. So just for me to be in this pit, which was massive — it went all the way around the space — and he was just being crazy Slowthai, that was super crazy. Another weird part of Parklife that I loved which I didn't expect to was Migos. I've seen them probably 10 times, so I almost didn't even go. But it was the first time they performed there, and the crowd was losing it. They were lining up to see Migos all day. I was thinking it wasn't that big of a deal, but the energy from their set was insane and everyone from the festival was at that stage. It rained all weekend, and it was freezing, but I loved every minute.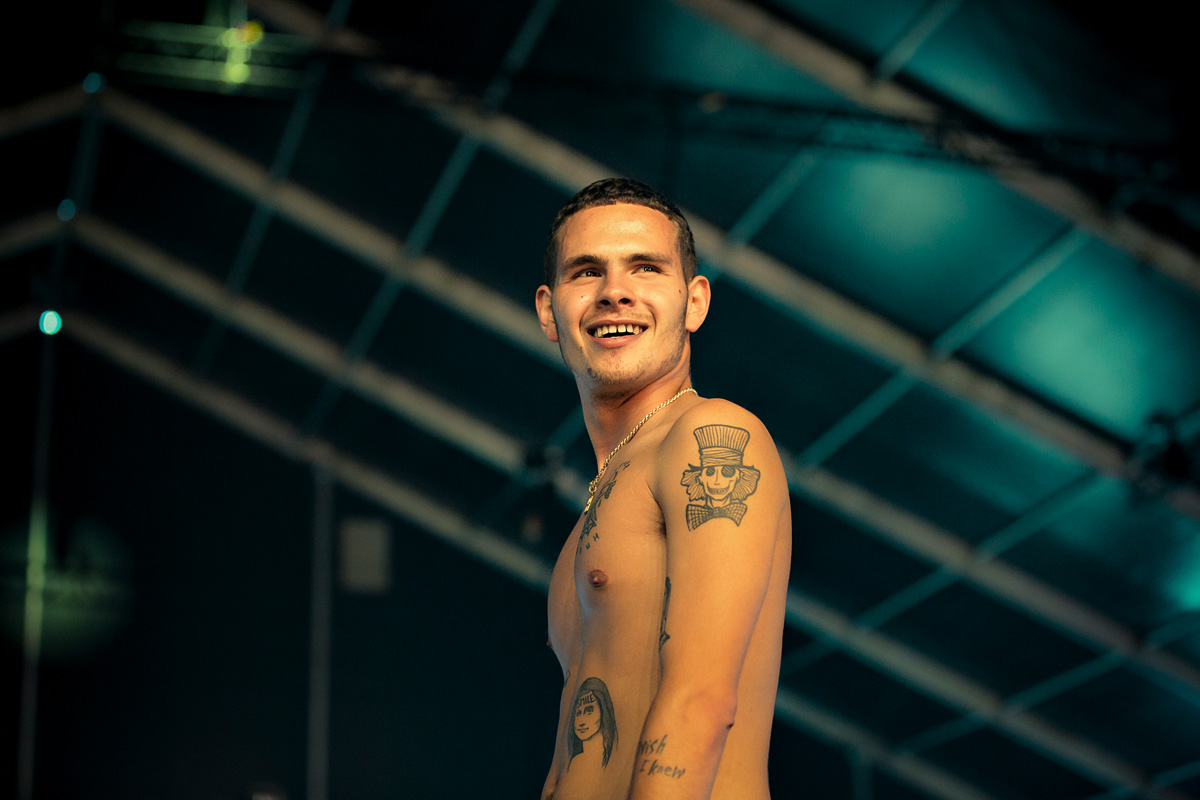 Slowthai at Parklife Festival
You took the photo that we're using for the playlist artwork. Beyond it including a photo of Octavian, the first rapper on your list, is there any connection or story behind it?
Yeah, that was my first day ever in London. I bought that magazine and went to have a glass of wine alone. I was in Shoreditch, and there was this motor cycle club there. I was looking for a patio and I walked past this place. The members would bike through the patio, park at the back, and come sit down. I'm not a biker but I texted my friend who does have a bike and was like "I'm at the craziest place," and he's like "No shit! You're at The Bike Shed?" I was like, "I guess so."
What was your approach to selecting these artists and songs?
Given the current times, I want to listen to music that makes me happy, so it's a little more up beat. As I was envisioning it, this is what I want to hear when I get out for my daily walk or sitting on my patio on a sunny day. Especially going into spring and summer now, I wanted more uplifting music. There are songs that I discovered when I first started listening years ago and some new ones. It's a bit of a mix, but all of these songs stuck with me for one reason or another.
If you know me, you know I love Octavian. I post about him a lot. I don't know what it is about him, maybe it's his raspy voice. Some of his first songs he released were really different; kind of dark and a little sad. But it was music like I had never heard before, so it reeled me in immediately. Little in particular is one of my favourites from a few years ago. That's why I chose him for the artwork and the first song, 'cause I'm a big fan.
He's been fun to watch, he's pretty much blown up over the last couple years. Just a few weeks ago, when Fenty did a live stream, he went on live with Rihanna. So it's crazy, he's global now.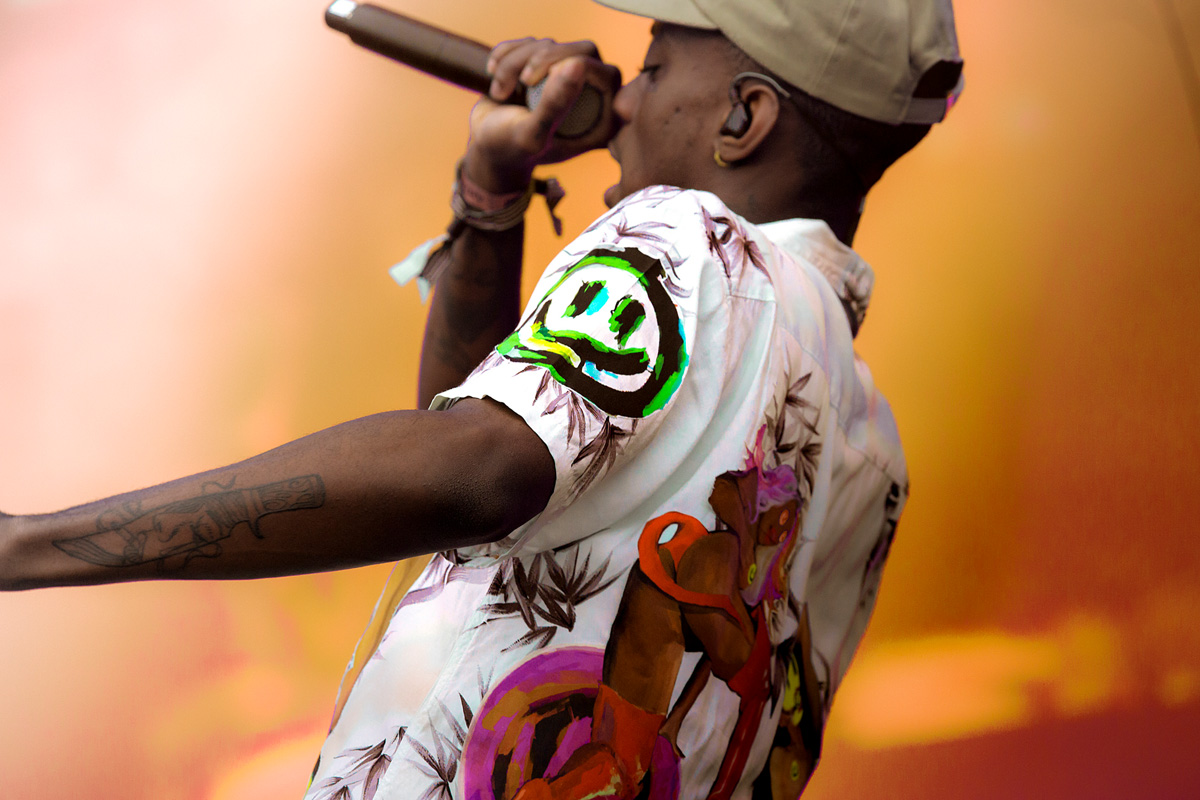 Octavian at Parklife Festival
Aitch is one of my favourites. He's this wholesome kid. If you follow him on social media, you'll fall in love with him. He's hilarious. But this song in particular is one of my favourite songs, ever.
The other thing I like about listening to UK music is that since I'm not in it, and I'm not looking at their charts, I never know what songs are actually big there or popular. So when I listen to an EP, I actually get to pick my favourites without being influenced by what's already popping, what's chosen as singles. I think this is one of the best songs I've ever heard, and I have no idea if it's big or not over there, and I find that interesting. I hope it's not overlooked because I think it's incredible.
I feel like everyone knows J Hus. He's never missed, in my opinion. His albums have no skips. He often pairs up with JAE5 who is a producer and is incredible as well. When I picture myself going to the UK and going to a show there, it's always a J Hus show. It's hard to pick a favourite song, but Spirit I thought was a good one for this. "Even if we never had a penny, we always had spirit." It's a nice song to listen to now and super up beat.
"He's never missed, in my opinion."
I noticed J Hus shows up a couple times in this playlist.
Yeah, I'm a bit of a fan.
This was a big track for me, and a big album for me too. It actually dropped the day I landed in London last year. It was crazy to be in London when Skepta dropped his first album in years. And more so, this was the first J Hus feature that had officially dropped since he was released from jail. So it was a big day getting all this new music. And then on top of that, I ended up getting into Field Day festival which happened in London a week after I got there. Skepta performed this album and brought out everyone, including J Hus. He just hit the stage and ran through every song, and there are so many features on this album. All UK people who I love, just with no announcements or anything. They'd just run out on the stage for each song, it was just absolute madness. And to see him there in London was crazy.
Have you seen him prior to in London?
I think he was the first UK rapper I ever saw when he came to The Hoxton after OVO fest. I thought The Hoxton was going to fall apart. The floor was shaking, everyone was going crazy.
Not3s was probably my gateway drug into the UK music scene. He was the first artist I really fell in love with. His songs are just extra melodic; he sing-raps, which really drew me in. This song is just a really fun song, and that title is just so UK, Peng Ting Called Maddison. Addison Lee is a car service, like Uber but a level up. It's just a really fun song from a few years ago. When I think about when I first started listening to UK music, that song comes up in my head.
"He was the first artist I really fell in love with."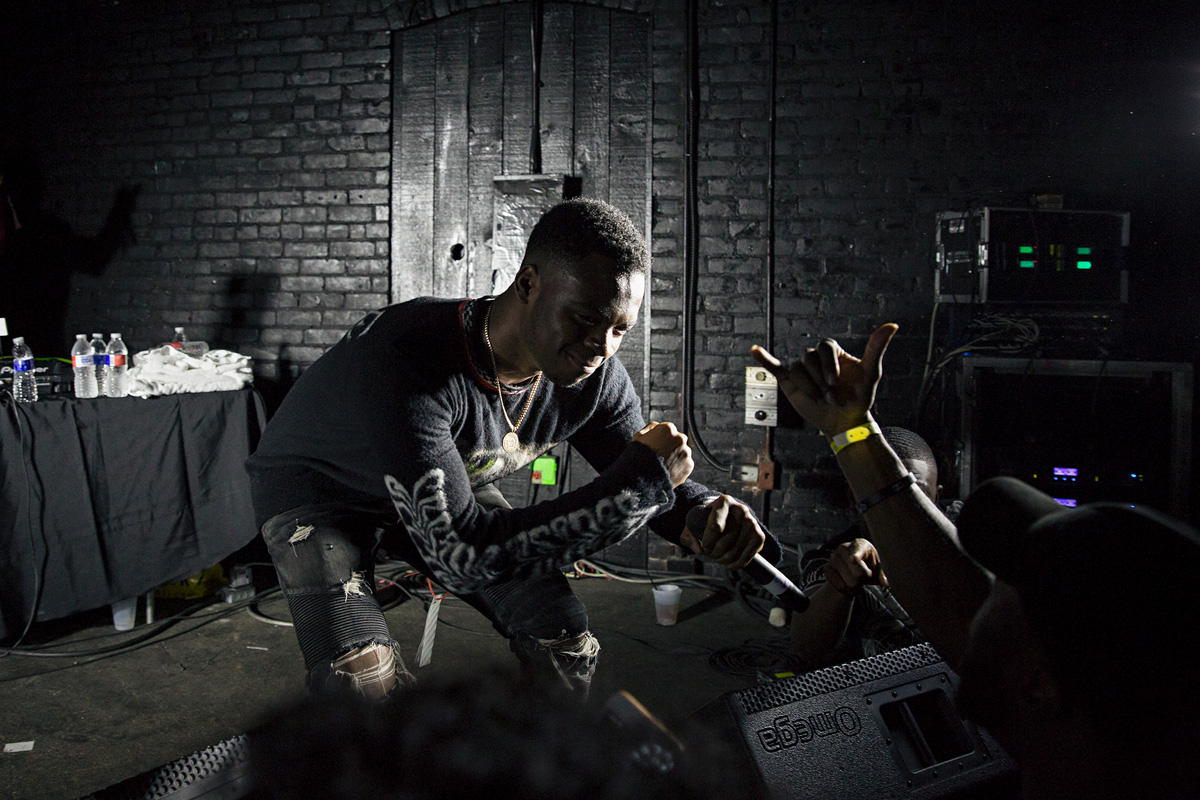 This song sounds like summer. It sounds like being outside and having a really good time with all your friends. That's why I put this one on here.
"This song sounds like summer."
I noticed Burna Boy is from Nigeria. Is he big in the UK music scene?
Yeah, absolutely. He features a lot of UK artists and is featured on songs, like Jorja Smith and stuff like that. Definitely intertwined for sure.
Plus Ed Sheeran, which is an interesting combo.
Haha yes, God bless Ed Sheeran. Don't get me started on his verse on Own It or we'll be here all day. But yeah, Burna's sick.
This song just came out by Lotto Boyzz in February, and it makes me kind of sad to think about because when I first heard this song I immediately fell in love with it. It's super catchy, and all I could think of is getting to hear it on a summer afternoon patio. I was so excited to be able to hear this song somewhere on proper speakers and with other people, but obviously that didn't happen yet. But this song is such an ear worm, it's so good.
This song came out about a year ago, around the time that I was discovering Roddy Ricch. He's been another amazing artist to watch over the last year. Completely blown up. I remember this song came out when I was already listening to a lot of him, then to see him collab with Chip, it was like worlds colliding. It's so good, I love this song so much. It's one of my favourites ever.
What makes this song so special?
The three of them work together really well. A Roddy Ricch hook can go on anything and make it the best song ever. Chip is just OG, so to have them together. Just a combo I never expected to hear and it took me off guard, and it was amazing.
This next one is by Deno. He's 17, which is insane I'm really excited about him, I think he's going to have a really good career. The EP that this is off of, Eye to Eye, came out last year and every song is amazing. I wanted to include him on this one in case he might be a bit lesser known.
He's doing pretty decent for himself, 17 years old and his top song has 57 million streams just on Spotify.
Yeah, he's already something clearly, but he's got it.
Okay, everyone knows Location but this song just makes me so happy. This music video in particular is one of my favourite videos ever. It might be nice to watch right now. Half of it is Dave being shot in Ibiza and the other half is documentary footage from Merky Fest that Stormzy put on. Stormzy's in it, J Hus is there, Aitch is there. It's just the most fun, beautiful video with the most fun, beautiful song. It's the best combination.
Dave had a collab with Drake too, right?
Yeah, but Dave is a name in his own right. He's incredible. His show in Toronto in November was incredible. It was super sold out at the Phoenix. Frankly I think he could have done Rebel with the amount of people trying to get into that show. He was blown away by everyone knowing the words and everything. Just to see their reactions is the best part because they're just as blown away as I am half of the time. Like, "You all know me over here? That's insane."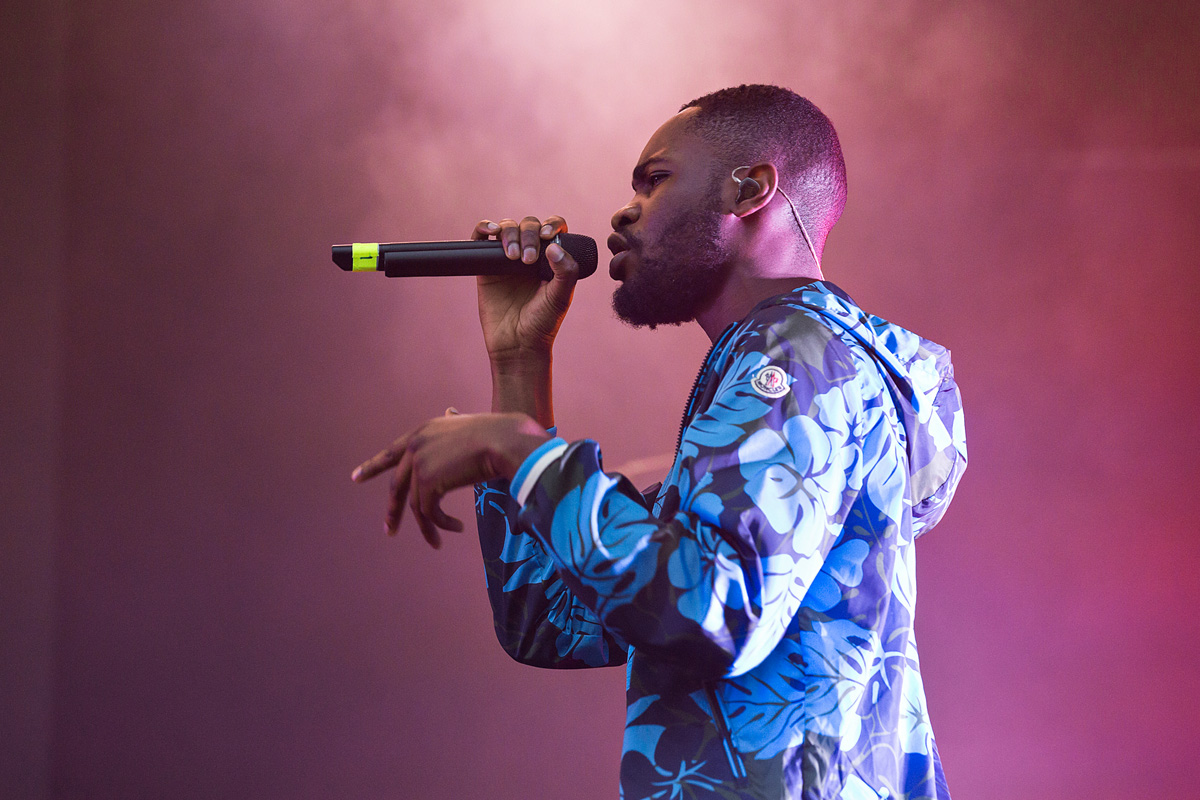 Dave at The Phoenix Concert Theatre
The last song is Daily Duppy which is a freestyle. They have new artists dropping these Daily Duppy freestyles like twice a month or something. MoStack in particular is super sick, the beat is crazy. I remember the first time I heard this I was working in a cafe and was just taken aback by it. And towards the end, there's one line where he's like, "I'ma hit the target if I shoot it. The only thing I miss is J Hus' new music." This was when J Hus was locked up, and I was like, "All I want is new J Hus music." So that hit me.
---
Anything you want to plug?
My work is usually concert photos which isn't anything I can do right now, so I just hope this playlist is a nice, light, happy escape.